Today's business environment involves infusing a customer's perspective into performance goals in organizations.
The goal is to focus on performance management strongly, directly, and explicitly on core business drivers. Ensuring the inclusion of customer-related metrics enables this. Employees tend to work toward targets of their own department, function, or geography. Employees in different business "silos" fail to coordinate, even in their service to the same customer.
An individual's performance goals cascade from business-level priorities to teams and individuals. Customer satisfaction goals arise out of a dialogue between employee and customer on a given parameter.
This approach differs from standard "goal cascading" practices in two critical ways. First, the infusion of a customer element into performance goals embed key business drivers. Second, placing responsibility for customer expectations with individuals enfranchises employees into business goals.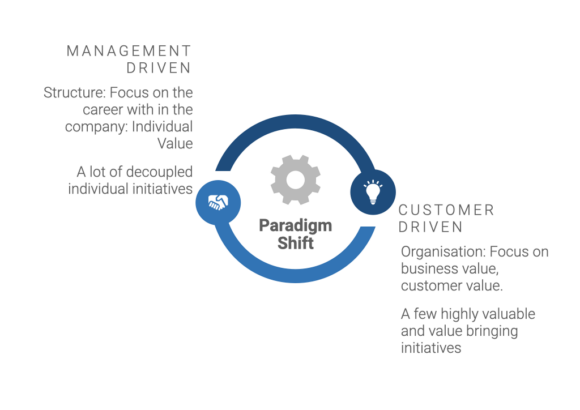 We have experienced, that a critical success factor is a clear and consistent communication. Clarifying the rationale for introducing customer elements into performance goals is important. Internal customers must make a clear business case for their performance expectations. This helps avoid over-focus on serving internal customers this increasing cost and inefficiency.